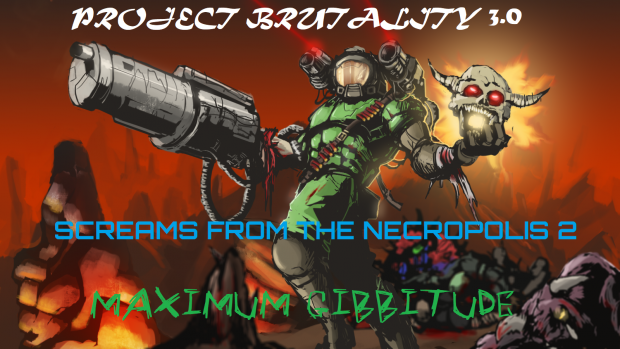 Doom 2: Maxium Gibbitude
Continuing from "Screams From the Necropolis", our soldier dives deeper into the Necro after finding a hidden tomb. Inside the tomb (Named by our hero, Gibbitude) lies a portal that leads to the surface of earth. But you must climb all 30 floors to make it, are you up for the challenge? Of course you are.
These maps are heavily edited Oblige w/OBAddon maps with better enemy balancing and weapon placement. Some levels even have special "countermeasures" to make your travel to the top difficult. For example "Metal Meltdown" has lava covering 70% of the floor. Find a radsuit to live, and speed is key.
Made for Doom II
---------Maps----------
MAP01: Entrance Into The Eclipse
MAP02: Realm of Holy Wars
MAP03: The Punishment Due
MAP04: Heaven and Hell
MAP05: Overdose
MAP06: Painkiller
MAP07: The Ritual
MAP08: Hall of the Dehumanizer
MAP09: Tombs of Inner Truth
MAP10: Architects of Pain
MAP11: Harvesting of Sorrow
MAP12: Losfer Words
MAP13: Temple of The Damned
MAP14: Tomb of Five Magics
MAP15: Powerslaves (Secret Exit)
MAP16: The Green Manalishi
MAP17: Sea of Madness
MAP18: Enter Sandman
MAP19: Metal Meltdown
MAP20: South of Heaven
MAP21: Hollowed Be thy Name
MAP22: Divine Intervention
MAP23: Black Metal
MAP24: Chop Suey
MAP25: Frantic
MAP26: Train of Thought
MAP27: Never Neverland
MAP28: TYR
MAP29: Eaten Back To Life
MAP30: Not So Simple
MAP31: Queen Street (Secret)
MAP32: Rust in Peace (Secret)
Download
Click download now to get access to the following files:
Maximum Gibbitude.wad
84 MB
Screams From The Necropolis
if you pay $1 USD or more